FSP were a proud media partner for the March8 Women in STEM event, part of TECH LIVE London, in June 2022.
We were delighted to be a media partner for the March8 Women in STEM event, part of TECH LIVE London, on 23rd-24th June 2022.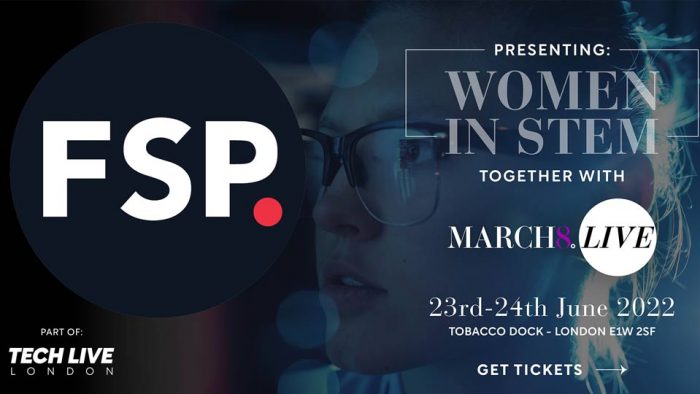 This hybrid event brought together the world's leading Women in STEM, to share knowledge and experiences and identify what more can be done to encourage future female generations into the tech industry. 
Members of our team who joined the event were very excited to be part of the conversation.
Jurgita Armonaite, one of our M365 Consultants, said:
"The event was absolutely amazing! It was inspiring to listen to confident women sharing their stories and experience of being a woman in a STEM role. I am very passionate about equity and inclusivity in the workplace and was hoping to get some ideas on how to empower more women to build careers in STEM. Something I have learned, is that retention of female employees in STEM roles needs more focus and that there are so many transferrable skills in other fields that could be used in career developments later in life."
One of FSP's Principal Consultants, Ruth Tank added:
"Some great speakers and insightful commentary on the challenge of encouraging more women into IT, with some saying the issue is around attracting young women into entry level positions, while others claiming the real problem is the drop off at middle to senior leadership levels. It was really useful to discuss the importance of gender bias within the tech industry and explore ideas on how we can educate others, improve our approaches and break the bias."
Being a part of key events like this provides us with the opportunity to educate ourselves on what more we can do to drive positive change, and reinforces our commitment to encouraging greater inclusion and diversity within our organisation and the tech industry.
Find out more about what we are doing around Diversity & Inclusion here